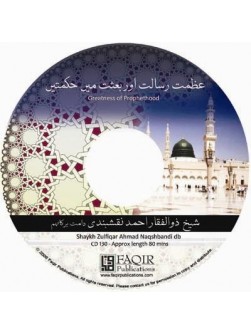 View full size
Azmat-e-Risalat aur Be'that main Hikmatain (Greatness of Prophethood)


Windows Media: Listen Online and Download
This is a passionate speech in which Shaykh Zulfiqar details the illustrious life of the Prophet of Allah

. He paints a beautiful picture for the listener that highlights the Prophet's flawless character and puts to rest the false claims that Islam was spread by the sword but confirms that it spread through the Prophet's impeccable example. The shaykh discusses examples of the Prophet's tremendous mercy throughout his life and culminating with the conquest of Makkah. Only in the Prophet of Allah

will mankind find the ultimate example and thus the ultimate solace and so Shaykh Zulfiqar concludes by advising us all that we can never go wrong if we take the Prophet as our example and ideal in life.
CD130 - Approx. Length 80 minutes.
Packaging: Trigger Jewel Case
No customer comments for the moment.