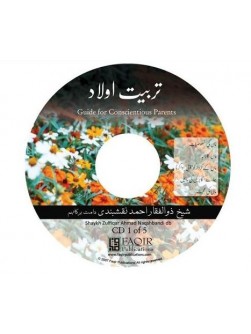 View full size

Display all pictures
Tarbiyat-e-Aulad - A guide for conscientious parents

A lecture series comprising of 5 CDs that lays down the guiding principles for parents to raise children as good Muslims and good human beings. For a complete listing of the CD tracks or topics discussed in these lectures, see below.

CD Track List
CD # 1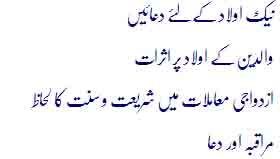 Nayk aulaad kay liay duaaien

Walidayn kay aulaad par asraat

Azdawaaji muaamalaat main shariat wa sunnat ka lihaaz

Muraqabaa aur dua
CD # 2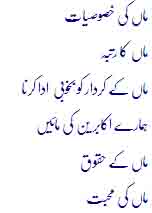 Maa ki khusoosiyaat

Maa ka rutba

Maa kay kirdaar ko bakhobi adaa karna

Hamarayn akaabireen ki maaien

Maa kay huqooq

Maa ki muhabbat
CD # 3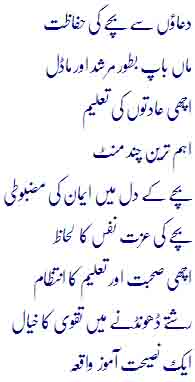 Dua'oon say bachay ki hifaazat

Ma Baap batoor murshid aur model

Achi aadatoon ki taleem

Ahm tareen chand minute

Bachay kay dil main imaan ki mazbooti

Bachay ki izzat-i-nafs ka lihaaz

Achi suhbat aur taleem ka intizaam

Rishtay dhoodnay mein taqwa ka khiyaal

Ayk naseehat aamooz waaqiah
CD # 4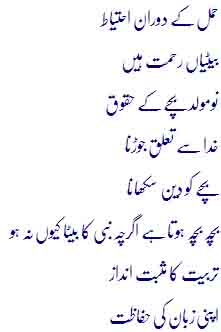 Haml kay doraan ihtiyaat

Baitiyaan rahmat hain

Nao mawlood bachay kay huqooq

Khudaa say ta'aluq jorna

Bachay ko deen sikhaana

Bacha bacha hota hain agarchay nabi ka baita kyon na ho

Tarbiyat ka musbit andaaz

Apni zubaan ki hifaazat
CD # 5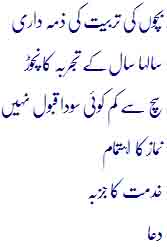 Bachon ki tarbiyat ki zimidari

Saalha saal kay tajarbay ka nichoor

Sach say kam koi sauda qabool nahin

Namaaz ka ihtimaam

Khidmat ka jazbah

Duaa
Packaging: Jewel Case
Speaker: Shaykh Zulfiqar Ahmad (db)
No customer comments for the moment.