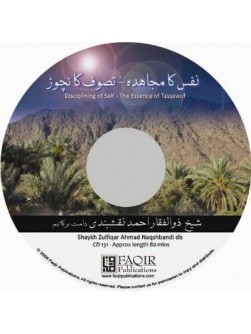 View full size
Nafs ka Mujahidah - Tasawwuf ka Nichoor

Shaykh Zulfiqar Ahmed (db) uses clear evidence from the Holy Quran and hadith to illustrate the importance of struggling against our selfish animalistic desires (nafs) and how training the nafs toward righteousness is essential in attaining nearness to Allah

. The nafs refuses to acknowledge anything other than itself, and using this fact the shaykh brings us to the terrifying reality that we could be guilty of shirk (associating partners with Allah

) on the Day of Judgment if we allow it to subjugate us instead of struggling to subjugate it to the Will of Allah

. The nafs is pure arrogance, and breaking that arrogance so that the nafs can recognize its Lord is the essence of Tasawwuf. In this heartfelt speech the shaykh counsels all of us to struggle against our evil animalistic desires so that we may come close to our Lord.

Windows Media: Listen Online and Download
Approx Length: 79 Minutes
Packaging: Trigger Jewel Case
Speaker: Shaykh Zulfiqar Ahmad (db)
No customer comments for the moment.