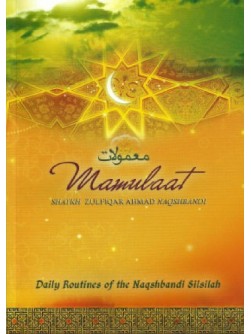 View full size
According to Shaykh Zulifqar Ahmad Naqshbandi, every salik should have this book, and should consider it not only a self correcting manual but also a primary instruction and guidance from one's Shaykh (a guide on the path of the spiritual purification), and hence should give it the proper importance and respect.
Whenever a Salik (a seeker on the spiritual path of self-purification) tales an oath of allegiance (bayah) and enters into the Naqshbandi chain of spiritual reformation, he she is assigned lesson and daily routines that are essentials for him/her to carry out.
These daily routines and maintaning a schedule for them is so important and beneficial in the life of the salikeen that it has become necessary to wrote this book in which everything could be discussed in detail. The more the salik will understand, the more he will be able to practice with love, diligence, and perseverance.
Pages: 86
Author: Shaykh Zulfiqar Ahmad (db)
No customer comments for the moment.