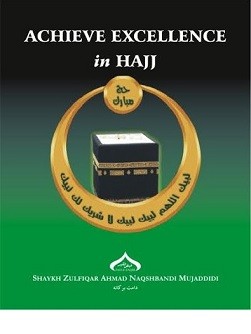 View full size
Achieve Excellence in HAJJ
Hajj is not a luxury tour or vacation, and Allah has made hardship a necessary factor in Hajj. Those who depart with the mindset that Hajj is supposed to be easy get impatient and start complaining at the slightest inconvenience. Hence pilgrims need to begin their journey with the knowledge and intention that Hajj is a journey of trials and not one of luxury. We are lovers and not the beloved, but yet we expect our every need to be catered to, just like we were the beloved. This is a journey only for lovers, and whoever wants to travel as if he is the beloved will find that he will never get the opportunity for this grand journey.
Many of us make the blunder of embarking on this sacred journey without learning the Spiritual and Legal dimensions of Hajj. This book acts as a virtual guide for such travelers and help them 'Achieve Excellence in Hajj'. While the content herein is extraordinary, even more amazing is the effect that it has produced on those who have listened to or read it. Unfortunately, it is virtually impossible to convey such realities on paper.
Author: Shaykh Zulfiqar Ahmad (db)
No customer comments for the moment.